Urban Hive
I applied a layer of plaster to the skeleton.
The huge amethyst crystal was embedded at the top.
Next, I brought it to Andy Payne. Andy is an amazing resin artist who agreed to collaborate with us by adding a surface that would be weather resistant, beautiful, light weight and strong.

Andy normally works on flat surfaces, but was excited to try a three dimensional collaboration.
His first layer was super bright, so we decided to tone down the colors.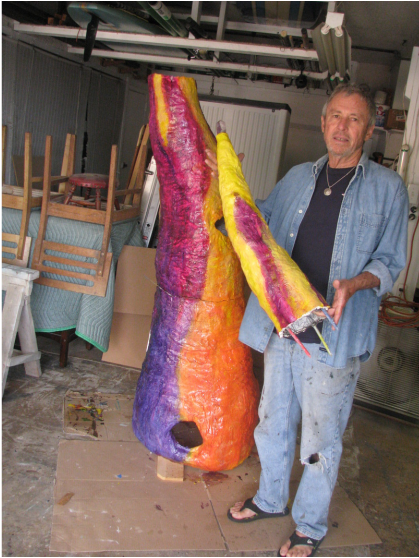 He added layers of sky blues & grassy greens.
His work came out perfectly! Next, I installed it in my backyard located in City Heights. I turned it into a urban wilderness preserve, by digging entrance/exit holes around the fence and planting a butterfly garden.


I see areas where skunks are digging for grubs in the yard, so I know they are using the space.
The DNA of Creativity bought us a "camera trap". Tonight I'll try it out.

After a long hard day at work, my wife is very ill and I'm not sure if I'm setting up this camera correctly.

I guess that I did it correctly. I awoke to excellent footage. I can see our skunk coming out of the sculpture and heading off into the night. Hours later, she returns to sleep the day away.